1. Use Strong Passphrases
Gone are the days of using simple passwords. It is essential to change the way we think about what constitutes the most secure password structure. The tech industry has done a great job conditioning people to think they need to build a complicated password with both uppercase and lowercase letters, numbers, and symbols, when there is a way to increase your online security and make your password easier for you to remember. Using a passphrase, rather than a password, can help keep your online identity safe. For example, an ideal passphrase is comprised of random, unassociated words like "motor taco fedora quite". XKCD has a good example here: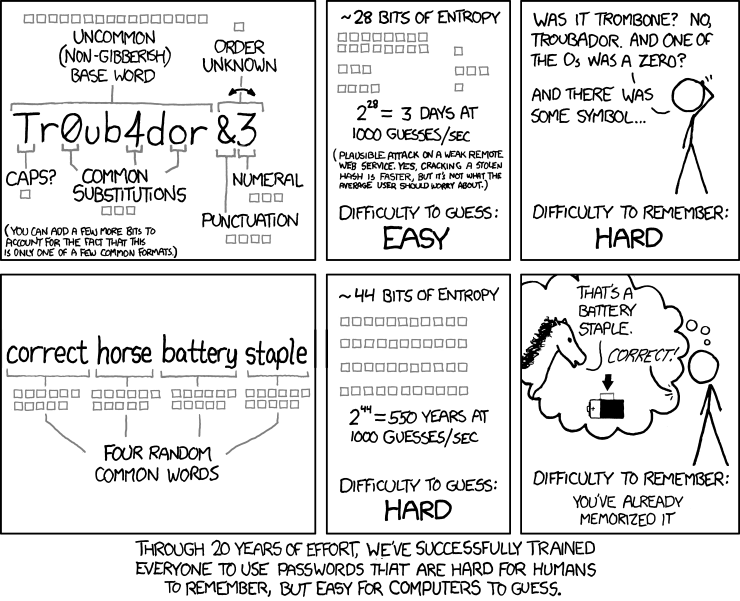 In some instances, however, the website or application will only accept a short password such as 8 or 10 characters long. In this case, it's still beneficial to follow the standard character/symbol/number guidelines. Regardless of the security restrictions imposed by your applications, a managed IT service provider can help ensure that each user remains in compliance with these security measures, as a weak password is a significant liability for any business.
2. Two Factor Authentication
The use of two-factor authentication has become very popular over the past few years and is just another layer of protection from identity thieves. Two-factor authentication is a multi-step process that requires a user to enter information from multiple devices. After entering a password, you will also receive a notification on your phone or an email that gives you a unique PIN to gain access to your account. This PIN is time sensitive and will usually expire within 15 minutes, and two-factor authentication provides your account much-needed protection from any external threats.
3. Avoid Phishing Scams
Another common way that cybercriminals gain access to personal information is through the use of phishing scams. These emails are designed for you to enter personal information that they can use to steal your identity. Of course, it is important to remember that no legitimate company will ever send you an email asking for your personal information without you initially contacting them. However, an IT provider can provide security software that scans each email document to identify any malicious software and can help you avoid becoming the next identity theft victim.
The cyber world is filled with a vast amount of threats that hope to steal your personal information, and it is wise to partner with a managed service provider for the best protection in the workplace. A managed service provider that specializes in cybersecurity can help you keep your identity safe and secure from a wide range of cyber attacks. Your business will also receive the latest security updates available, as protecting your identity is always a top priority for any managed service provider.
Technology is always changing, but choosing to partner with an IT provider is a worthy investment that will keep your business safe and secure from any online identity scams in the workplace.